Going abroad for an internship work placement or a period of study means deciding to go and live in another cultural environment with different organisational structures and value systems.

Studying abroad is an opportunity for students to fully immerse themselves, to adopt another way of life and add an international dimension to their education in the process. It provides excellent experience of working in multicultural teams and is undoubtedly essential preparation for the engineering profession, which increasingly requires contact with foreign countries.
Thanks to ECTS (European Credit Transfer System), validation of periods spent abroad is easy. However, it should be noted that periods abroad only lead to a degree within the framework of joint degree agreements.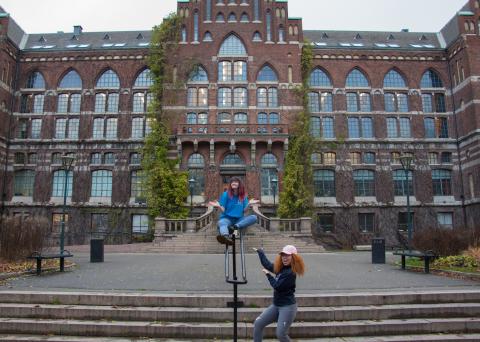 A period spent abroad is compulsory at Polytech Paris-Saclay to obtain the engineering degree (8 to 12 weeks minimum depending on your status). Students must spend part of their course abroad, either:
For a joint degree course leading to an engineering degree from Polytech Paris-Saclay and a degree from the partner institution. In the latter case, the duration of the course is extended by one semester.
For a study period (one or two semesters at a partner university)
For an internship in the 4th and/or 5th year.
The 'Bureau des Relations Internationales' (RI - International Relations Office) supports student engineers with their planned periods abroad.
Studying abroad 
As a student at Polytech Paris-Saclay, you have the option of spending one or two semesters at a university which is a partner of Université Paris-Saclay. The university offers a range of grants to help and support you in your planned periods abroad: Erasmus +, grants for internships work placements abroad, grants from the Region, the Ministry, etc.
The campus at the EUGLOH European university
Université Paris-Saclay is one of the 5 campuses of the EUGLOH European university, which also includes 4 other European campuses, namely in Germany, Hungary, Sweden and Portugal. Take advantage of the opportunities offered by these campuses, either online or face-to-face in the host country. EUGLOH allows you to develop cross-disciplinary skills, build your professional project, interact with students from all walks of life and deepen your knowledge in your chosen field.
They are severals ways of enjoying periods broad:
Going abroad within the context of a joint degree: UQAC (Canada), NTU (Taiwan), NCTU (Taiwan), BEIHANG (Chine), NSU (Russie).
Going abroad within the context of a bilateral agreement: over 70 international partnerships with Université Paris-Saclay or Polytech Paris-Saclay (please see the list of partners).
Students studying abroad remain enrolled with Polytech Paris-Saclay and do not pay tuition fees at the host university.
Examples of destinations :
Europe: EUGLOH partners (Ludwig-Maximilian of Munich University- Germany, Lund University- Sweden, University of Porto - Portugal, University of Szeged - Hungary), ERASMUS partners (Universidad Politécnica de Madrid - Spain, Politecnico di Milano - Italy, University of Linköping - Sweden, Cork Institute of Technology - Ireland, etc.)
Canada : Please see the BCI programme
Asia: National Taïwan University (Taiwan), Shanghai Jiao Tong University (China), Hong Kong University (Hong Kong), IIT Madras - India, etc
Download the list of partners :
Learning agreement
The study period will be recognised as an integral part of the Polytech Paris-Saclay programme. The study programmes are jointly defined by the home and host universities in a learning agreement. The period abroad can cover the entire 4th year, or part or all of the 5th year. In order to validate your stay abroad, you can only study at a university which is a partner of Polytech Paris-Saclay.
Download the "Learning agreement"
Internships :
Internships abroad, either in a company or a laboratory, take place in the 4th or 5th year of the course at Polytech Paris-Saclay. Students are free to send their applications abroad, but they can also take advantage of the special links that Polytech Paris-Saclay has forged with Universities across the world. 
Internship in Europe
The Erasmus+ programme can also be used for internships work placements in companies or in university laboratories.
Download the Erasmus kit :
Work placements outside Europe
Destinations are now becoming much more diverse and students regularly go to Australia, Canada, the United States, China, Taiwan, Brazil, etc.
Travel grants
Students enrolled at Université Paris-Saclay can benefit, under certain conditions, for financial aid for their study period or internships work placement abroad (please see the 'Funding' section on the Université Paris-Saclay website).