Photonics and Optronic Systems
INTRODUCTION
Photonics: seeing things clearly
Optics and photonics are the science of light (visible or invisible) from X-rays to far infrared, including light production and transmission, image formation and processing.

The Photonics and Optronic Systems course offered by Polytech Paris-Saclay covers an area where optics, electronics and physics meet and allows students to gain the dual competence in optics and electronics necessary to master the modern techniques used in emerging fields of photonics.

Photonics is more specifically associated with the study of components for the generation, transmission, processing (modulation, amplification) or conversion of optical signals. The subjects studied in the context of photonics include lasers, light-emitting diodes and optical fibres, etc.

Optronics is a technique for operating equipment or systems using both optics and electronics. It generally combines an optical sensor, an image processing system and a display or memory system.

The applications of photonics can be found in many fields, as light (the photon) constitutes an extremely precise probe or an information carrier with exceptional properties: energy, the environment, biomedical, transport, aeronautics, defence, telecommunications, etc.

More specifically, these sciences are very present in our daily lives: at the supermarket checkout, where a laser is used to identify items; at the airport, where a gyrolaser is used to guide aeroplanes; in the fields of information technology, audio and video with the optical disc, etc.
Core curriculum
The 'Electronics and Robotic Systems', " 'Computer Science', " Materials : Mechanics and Energy' and 'Photonics and Optronic Systems'courses include a common core designed to help future engineers better understand the requirements and processes of companies. Throughout the course, business is studied from several angles, including economics, finance, marketing, communication, R&D, management and languages, etc.
 
Ask the programme!
Going further
There are many options for joint degrees and additional training available to our students in the form of  Master's courses at the University as well as ENS Paris-Saclay, the École CentraleSupélec, ENSTA, IOGS and IAE de Paris.
You can also study for a PhD (CIFRE thesis or other) - in particular those who have obtained a Master of Research.
Students can benefit from the many international links enjoyed by the school and Université Paris-Saclay and enjoy international travel (minimum of three months required during the course) either for periods of study abroad or to carry out work placements outside of France.
IN SUMMARY
Skills
Optical systems
Image processing
Optical telecommunications
Optics, photonics for medical applications
Optics, photonics for the environment
Les applications
Lasers
Optical fibres, telecoms
Biomedical photonics
Medical imaging
Photonics for the environment
Solar energy
Atmospheric optics
Optronic sensors and systems
INTEGRATION INTO THE LABOUR MARKET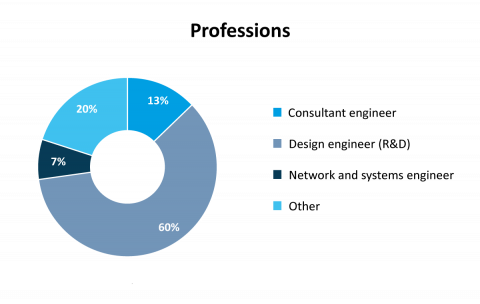 Survey of graduates at 6 months - Average over 3 years