Computer Science and Mathematical Engineering
The Computer Science programme has changed its name to Computer Science and Mathematical Engineering.
A connected training
IT is present in all areas of our lives, whether in everyday life (health, transport, communication, education, culture and leisure) or in a professional context.
The Computer Science specialty offered by Polytech Paris-Saclay aims to train professionals specialising in software engineering, i.e. the modelling, design, development and validation of software in the various application areas.
From programming, design and database management to artificial intelligence and virtual reality, the course includes all areas of computer science. Engineers graduating from this course will have mastered the design and development of computer applications, project design methods, object technologies, web applications, data engineering and science, machine learning mechanisms, the Internet of Things and interfaces of the future, etc.
The term "mathematical engineering" reflects the fact that many modules (machine learning, optimization, parallel programming, high performance computing, etc.) use mathematical concepts that are essential for modelling problems and finding effective solutions.
This generalist training enables engineering graduates to work in all areas in the field: digital service companies, companies specialising in networks, telecoms or transport, data management, games and multimedia, as well as the fields of finance, insurance, logistics, defence, health and the environment.
Core Curriculum
The 'Electronics, Energy, Systems', 'Computer Science', 'Materials: Mechanics and Energy' and 'Photonics and Optronic Systems' courses include a common core designed to help future engineers better understand the requirements and processes of companies.
Throughout the course, business is studied from several angles, including economics, finance, marketing, communication, R&D, management, languages, etc.
Ask for the programme!
Going further
There are many options for joint degrees or additional training available to our students in the form of Master's courses at the University, as well as ENS Paris-Saclay, the École CentraleSupélec, ENSTA, IOGS and IAE de Paris.
You can also study for a PhD (CIFRE thesis or other) - in particular those who have obtained a Master of Research.
Students can benefit from the many international links enjoyed by the school and Université Paris-Saclay to enjoy international travel (minimum of three months required during the course) either for periods of study or internships abroad.
IN SUMMARY
Skills
Management and leadership of IT projects
Software modelling, design, development and validation
Development of specialised applications for the Web
Advanced interface design
Database design and optimisation
Implementation of machine learning and data engineering algorithms
Applications
Software engineering and software architecture
Databases and data engineering
Networks, Systems, Security, Internet of Things
Optimisation and modelling
Interfaces and multimedia, virtual reality
Artificial intelligence and machine learning
INTEGRATION INTO THE LABOUR MARKET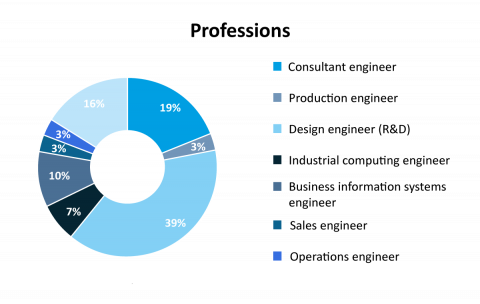 Survey of graduates at 6 months - Average over 3 years